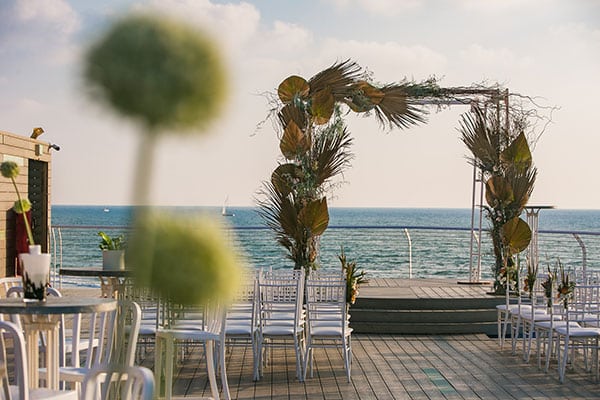 Trask Events is located at the north of Tel Aviv Port, right at the waterfront!!! After more than a decade of activity, Trask was renovated in 2014 and as of last summer it hosts wedding receptions and ceremonies on the building's roof, which offers a magnificent and breathtaking view of the endless sea and skies.
Trask inhabits a 1200 square meter structure with 6 meter tall ceilings, equipped with the most advanced and innovative lighting, sound, and air conditioning systems. The space and the rooftop deck offer a unique location and atmosphere which can be reinvented in accordance with the type of event and the customers' will.
The place can host wedding receptions and business events of up to 900 participants seated at tables, and cocktail style events for up to 1,900 participants. Adjacent to Trask is a Tel Aviv municipal parking lot.
Lighting
Trask's building is a historic building including columns and beams characteristic of Tel Aviv Port hangars. The new lighting system at Trask employed the columns and beams as an integral part of the lighting design in the space. The columns became multicolored lighting boxes which create a sense of "floating columns".
Over 100 smart lights were hung from the structure's beams, saturating the space with color and providing the ability to emphasize certain design elements for each and every event. The perimeter of the space employs "two way mirrors" which serve as lighting while also providing a sensation of sea and space.
The lighting at Trask, combined with elements of glass and two way mirrors, provides guests with an unforgettable sensation of magic and vastness.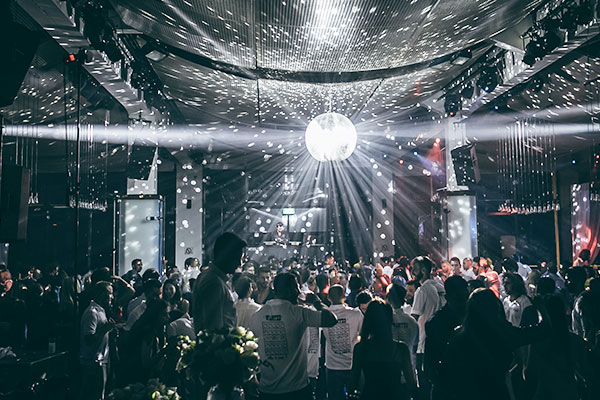 Sound system
Trask's state of the art sound system is among the most advanced in the field!!!
The system integrates several sound systems, around the dance floor, surround sound throughout the hall, and a sound system for the roof where the receptions and wedding ceremonies take place.
The hall's meticulous acoustics and the option of controlling the volume of each sound system independently, enables guests to enjoy the music and converse comfortably eve while dancing.
The end product is an experience of high quality and uncompromising sound!!!
Our Suppliers